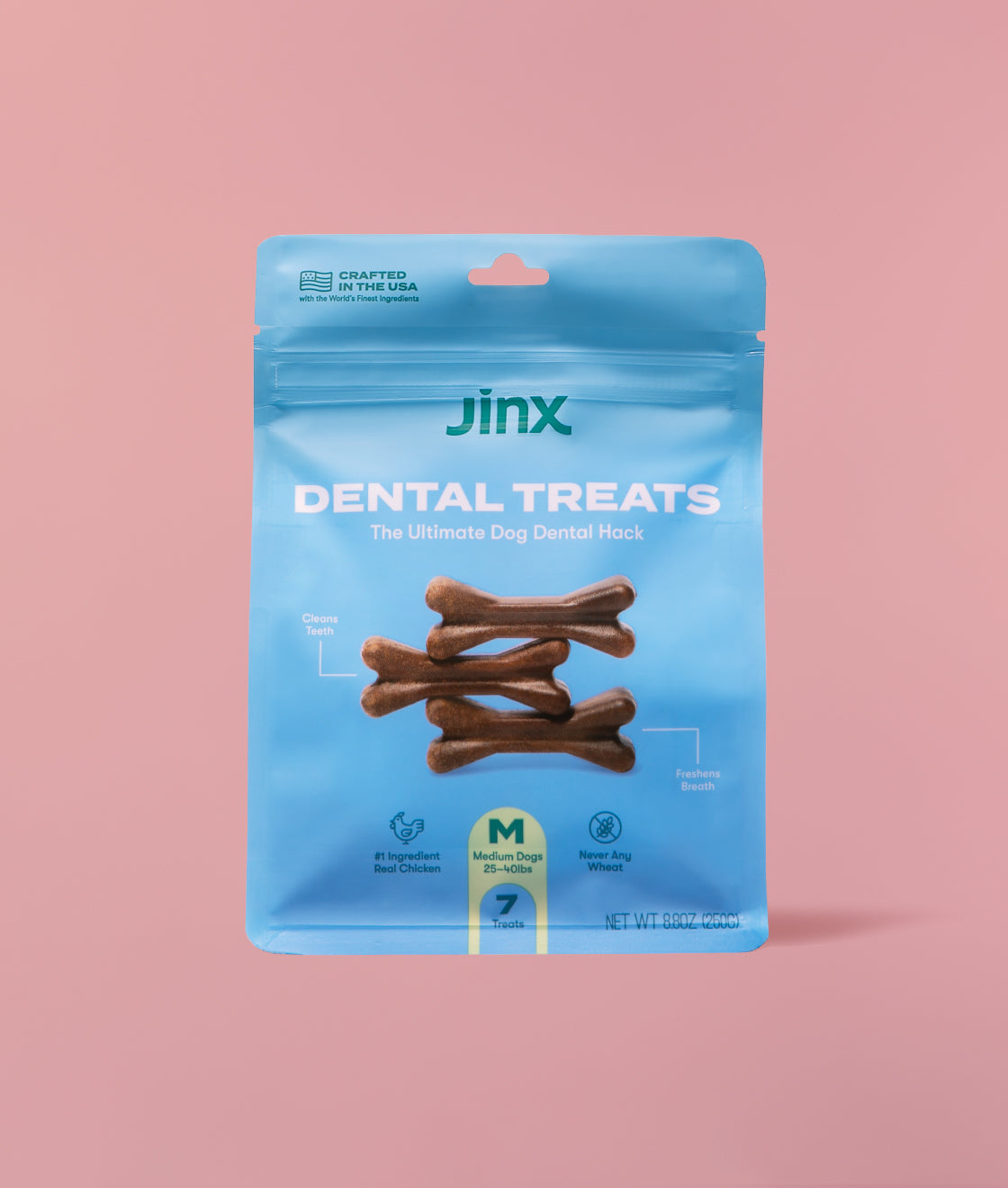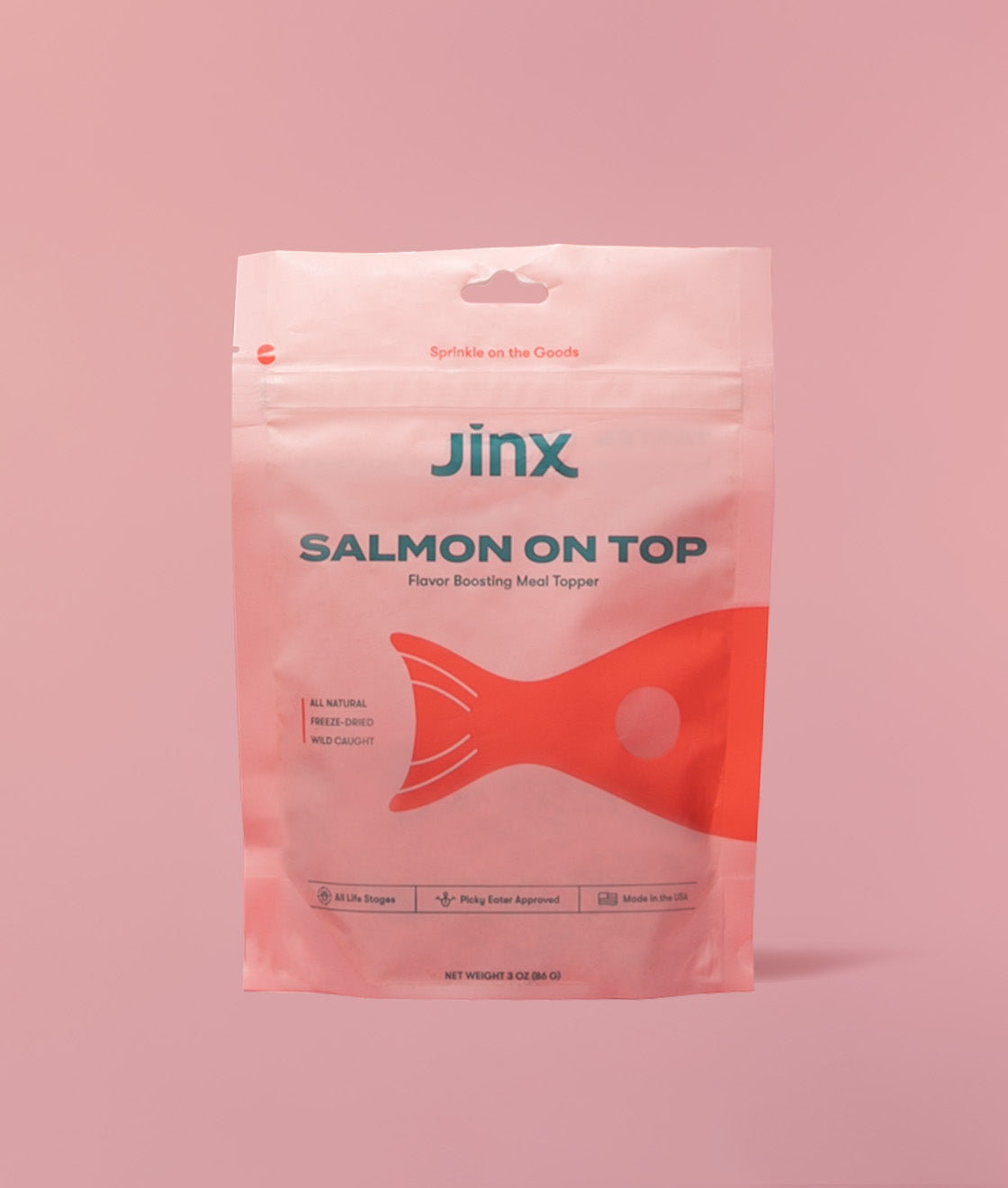 Salmon Essentials Bundle
Select Kibble Bag Size
?
What size is right for me?
Combining our expertly formulated superfood kibble, a protein & flavor packed freeze-dried topper, and a limited-ingredient dental chew, our Salmon Essential Bundle provides your pup with the healthiest day, every day.

Including one bag of Salmon & Sweet Potato kibble, one bag of our Freeze-Dried Salmon Topper, and one bag of our Jinx Dental Chews. Choose the bag size best for you below.
Select how you'd like to buy:
100% money back guarantee
GIVE BARK: YOUR ORDER FEEDS DOGS IN NEED
5% of every order goes towards feeding dogs at a shelter of your choice, at no extra cost to you. Add to cart to choose your shelter.
• Real Salmon as the #1 ingredient
• 20+ superfoods for all functional needs
• 20 million patented probiotics for gut health
• Added taurine for heart health
• Freeze-Dried Topper for flavor and to retain active nutrients
• Bone-shaped dental chews with the most limited ingredients on the market
Salmon, Brown Rice & Sweet Potato Kibble: Salmon, Pearled Barley, Ground Peas, Turkey Meal, Brown Rice, Chicken Fat (Preserved with Mixed Tocopherols), Menhaden Fish Meal, Oat Groats, Sweet Potato, Potato Protein, Dried Plain Beet Pulp, Natural Flavor, Flaxseed Meal, Whitefish Meal, Salmon Oil, Brewers Dried Yeast, Monocalcium Phosphate, Salt, Calcium Carbonate, Carrots, Pumpkin, Cranberry, Coconut Meal, Chia, Kelp, Alfalfa, Miscanthus Grass, Inulin, Taurine, Choline Chloride, Minerals (Zinc Sulfate, Ferrous Sulfate, Copper Sulfate, Manganous Oxide, Sodium Selenite, Calcium Iodate), Mixed Tocopherols (Preservative), Citric Acid (Preservatives), Vitamins (Vitamin E Supplement, Niacin Supplement, L-Ascorbyl-2-Polyphosphate, Vitamin A Supplement, Thiamine Mononitrate, d-Calcium Pantothenate, Pyridoxine Hydrochloride, Biotin, Riboflavin Supplement, Vitamin D3 Supplement, Folic Acid, Vitamin B12 Supplement), Blueberry, Spinach, Turmeric, Ginger, Chamomile, Parsley, Apple, Dandelion, Dried Spearmint, Cinnamon, Dried Bacillus coagulans Fermentation Product, Rosemary Extract.




Freeze-Dried Salmon Topper: Salmon, Mixed Tocopherols (natural preservative)




Jinx Dental Chews: Sweet Potato, Chicken, Honey, Peppermint Oil






| | | | |
| --- | --- | --- | --- |
| Salmon, Brown Rice & Sweet Potato Kibble | | | |
| Crude Protein | Min | 27 | % |
| Crude Fat | Max | 14 | % |
| Crude Fiber | Max | 5 | % |
| Moisture | Min | 10 | % |
| Calcium | Min | 1.2 | % |
| Zinc | Min | 120 | mg/kg |
| Omega 3 Fatty Acids | Min | 1.0 | % |
| Omega 6 Fatty Acids | Min | 2.5 | % |
| Ascorbic Acid (Vitamin C) | Min | 60 | mg/kg |
| Bacillus Coagulans | Min | 20M | CFU/lb |
| Freeze-Dried Salmon Topper | | | |
| Crude Protein | Max | 42 | % |
| Crude Fiber | Max | 14 | % |
| Crude Fat | Max | 3 | % |
| Moisture | Max | 8 | % |
| Jinx Dental Chews | | | |
| Crude Protein | Min | 15 | % |
| Crude Fiber | Max | 1 | % |
| Crude Fat | Max | 5 | % |
| Moisture | Max | 15 | % |
CALORIE CONTENT (CALCULATED)
Salmon, Brown Rice & Sweet Potato Kibble: ME = 3,600 kcal/kg; 392 kcal/cup
Jinx Dental Chews - Regular: ME = 82 kcal/bone
Jinx Dental Chews - Large: ME = 118.9 kcal/bone
Freeze-Dried Salmon Topper: ME = 124 kcal/oz
Salmon, Brown Rice & Sweet Potato Kibble: Your dog's daily food requirement may vary due to age, breed, environment, and activity level. Daily amount can be divided into two meals per day. Adjust food as required to maintain optimal body condition or consult with your veterinarian if you are unsure. Be sure to have a clean bowl of cool, fresh water available at all times.
Puppies: Feed dogs 1.5-3 months old twice the adult amount. 3-6 months old 1.5 times the adult amount. 6-11 months old 1.25 times the adult amount.
Gestation: Increase by 25-50%
Lactation: Feed free-choice
Freeze-Dried Salmon Topper: Add ½ teaspoon to meals for extra deliciousness, or adjust portions as desired for feeding.
Jinx Dental Chews: Feed as a snack to improve dental health, up to once a day for best results.
| DOG WEIGHT (LBS) | CUPS (8OZ) |
| --- | --- |
| Up to 5lbs | 1/2 |
| 6 - 10 | 1/2 - 1 |
| 11 - 20 | 1 - 1 1/2 |
| 21 -30 | 1 1/2 - 2 |
| 31–40 | 2 - 2 1/2 |
| 41–60 | 2 1/2 - 3 1/2 |
| 61–80 | 3 1/2 - 4 1/3 |
| 81–100 | 4 1/3 - 5 |
| Over 100lbs | Add ¼ cup for every 10lbs |
AAFCO APPROVED
Our Salmon, Brown Rice & Sweet Potato Recipe is a dog food formulated to meet the nutritional levels established by AAFCO Dog Food Nutrient Profiles for All Life Stages.
We understand how important and difficult it can be to find healthy food your pup will love. We're so confident Jinx will hit the spot, we back every purchase with a guarantee. If it's not love at first bite or you're not happy with your order for any reason, we'll make it right and give you a full refund. Read our full return policy
Only the good stuff.
No fillers, artificial preservatives, or label tricks.
SALMON
Protein for muscle mass and Omega 3's to support heart health
BROWN RICE
Loaded with natural fiber and antioxidants to aid digestion and heart health.
SWEET POTATO
A high fiber, low fat superfood that supports healthy digestion
PUMPKIN
A vitamin A, E, and C rich superfood that supports immunity and skin health
Healthier dogs live longer, and that starts with nutrition.
Superfood-powered kibble designed by nutritionists and backed by science to provide balanced nutrition for modern dogs of all breeds, ages, and sizes.
Key Points:
Real functional ingredients for a taste that pups prefer over leading brands
Superiorly-crafted nutrition and a patented probiotic for key nutrient absorption
Industry-leading protein and fat digestibility for ideal stool quality
Two Million Meals Delivered
We worked with a team of vets, dog nutritionists, and pet industry experts to create the perfect well-balanced diet, packed with foods that work extra-hard to keep your dog healthy and happy.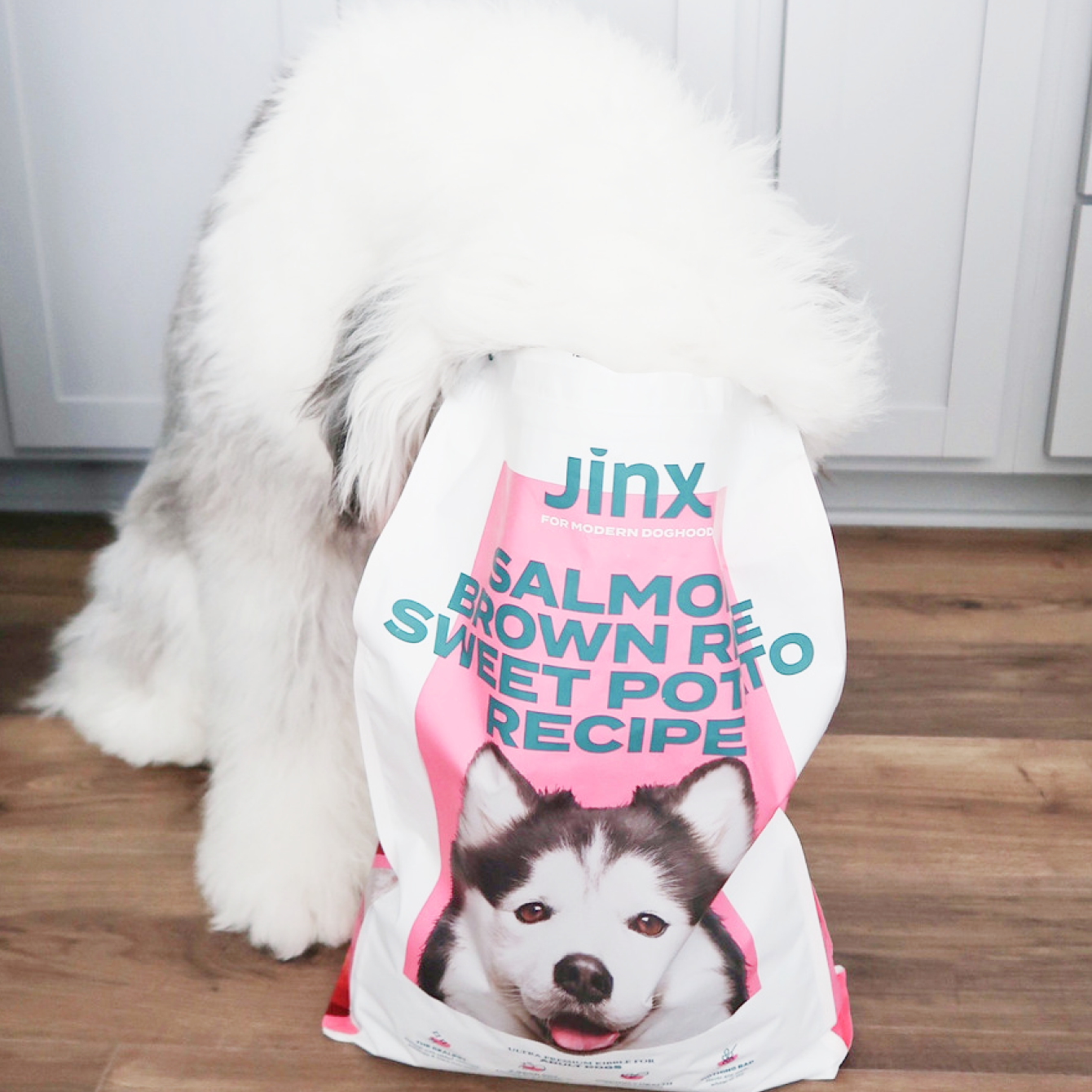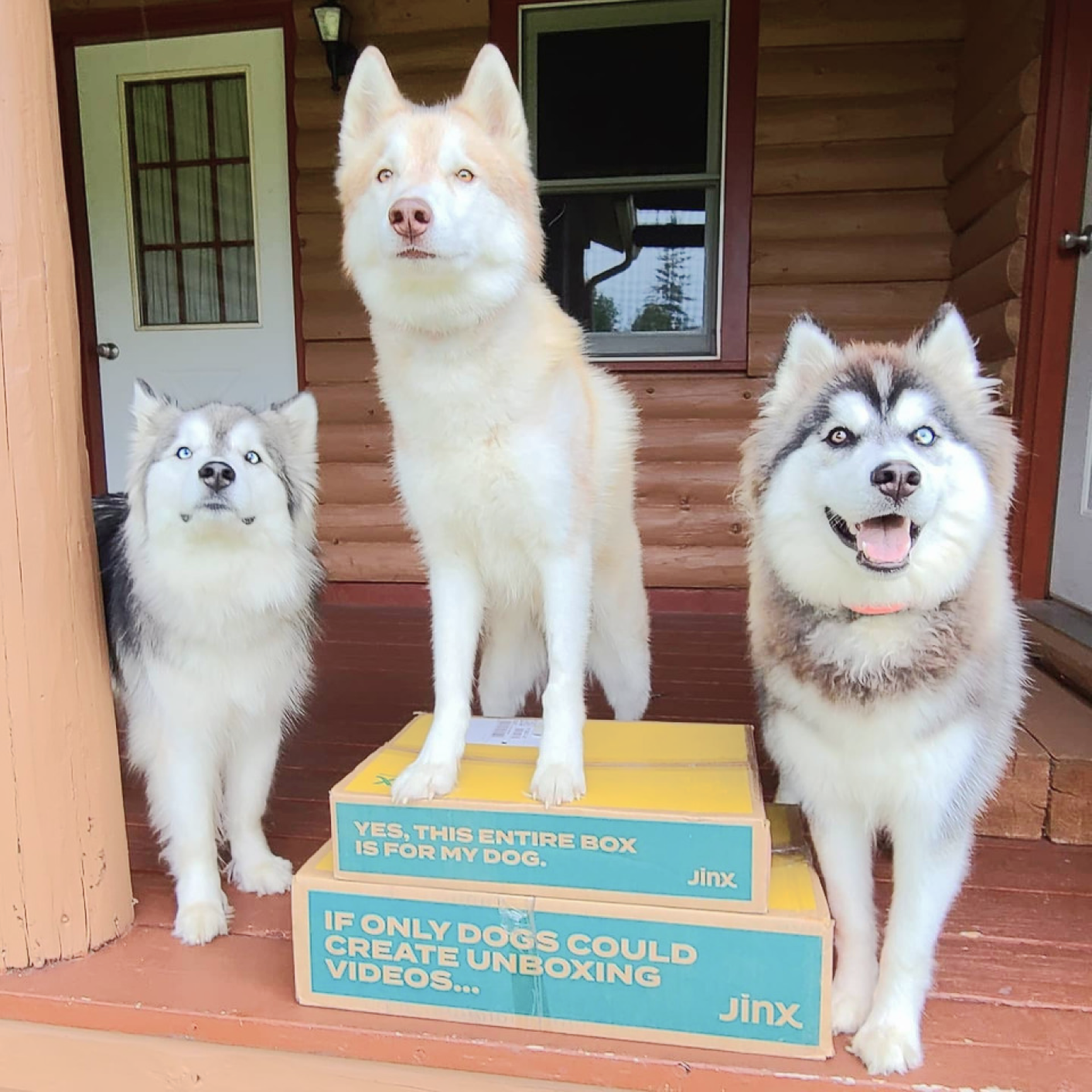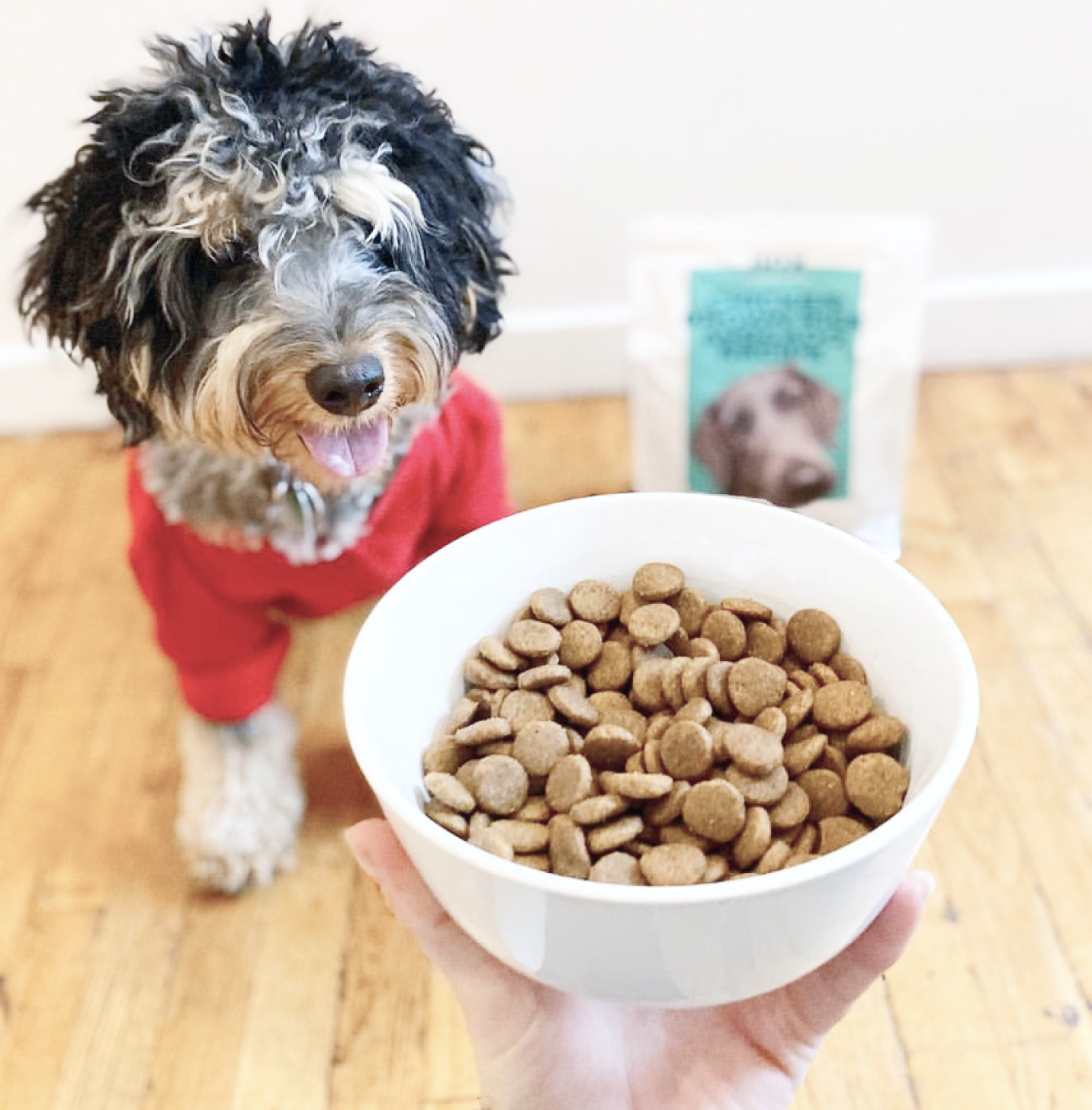 Here's the scoop. Backed by decades of scientific research, kibble proves to be the easiest and safest way to ensure your dog is getting a balanced diet. It's cost-effective, easy to store with low risk of spoilage, and can help promote healthier teeth and gums. You know your dog best, but we decided unanimously that kibble was the kind of food we wanted to both make and feed our dogs. During our own research, we found every nutritionist and industry expert that we consulted also feeds their own dogs kibble.
Jinx worked with a pack of animal nutritionists, formulators, manufacturing partners, and regulatory experts with more than 115 years of combined experience in creating and producing the best dog food options. The Jinx Nutrition Council guarantees that our recipes are formulated to meet the nutritional needs of a modern dog to optimize their health and overall longevity.
While AAFCO serves as a great baseline, our kibble recipes are formulated not just to meet the minimum standards, but to exceed them by both formulation and by analysis of the finished product. All of our recipes are complete and balanced, meaning it provides your dog the right amounts, in the right proportions, of every single nutrient that their body needs. Every day, every meal, every bite.
All life stages formulas are designed to serve the nutritional needs of dogs at every age and every stage. This means puppies, adult dogs, senior dogs, and even pregnant and nursing dogs now can enjoy the nutritional benefits of Jinx.
The recipe changes made have helped us ensure that both puppies and adult dogs get the nutrition they need in their food. Here is what's changed and why:
Fiber - we've slightly reduced the overall fiber content, since puppies need less than adult dogs
Phosphorus - we've added monocalcium phosphate, as puppies need more phosphate in their first year to grow up to be healthy and strong
Calcium - we've lowered the calcium contribution in our new recipe (which increased slightly when adding monocalcium phosphate), as too much can be problematic for adult dogs
Our new recipe provides the same high quality protein, all natural ingredients, and patented probiotic that your dog knows and loves. There are still no fillers, meat byproducts, artificial flavors, colors or preservatives.
If your dog is already eating Jinx Chicken, Sweet Potato & Egg kibble, your dog should not need any transition time between our adult and all life stages kibble recipes, as the recipe changes are minor. If your dog is hyper sensitive, or you are switching from another brand or recipe, we recommended going through a phased transition for optimal results (link to info)